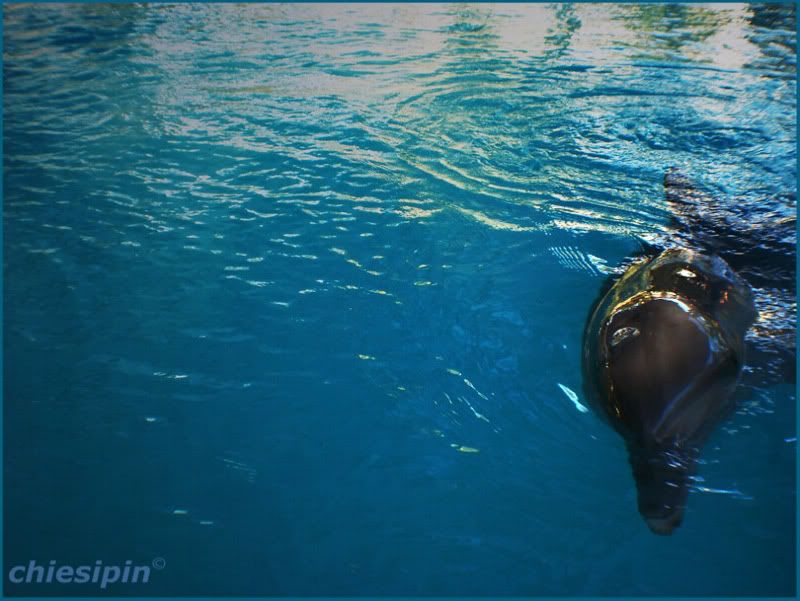 A long time ago and far away my husband and I went on a very long bike ride.
From Denpasar to Lovina. Up and down mountains. Through monkey infested forests. To the dolphin waters of Bali.
We traveled the
orange line
below. On motorbikes. (The very idea of me riding on a motorbike,
sure, sure,
a
scooter
, is surprising in itself. I never rode on anything two-wheeled until I moved to Bali when I was in my late twenties. And there I was, with my husband, on a 5-hour bike ride through mountain roads, jungle overhangs and long deserted plains! We took the same 5-hour ride back after a few days in Lovina.)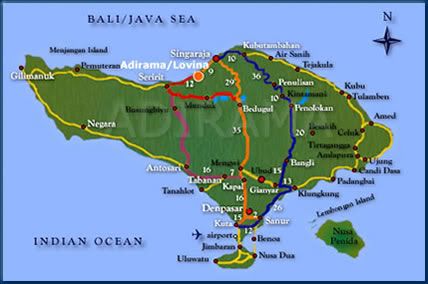 I don't remember how long we stayed there. Two days? Three? I remember beautiful days and beautiful images. And I remember our short rendezvous with the dolphins.
The ones we met were in a dolphin show/mini zoo. I played with the dolphin minutes before it went for its show. The image right on top is what it gave me.
I just found out that it was featured in an article about dolphin release. How apt. The article spoke about how Indonesia almost released captive dolphins to the wild without rehabilitating them.
Click the screenshot of the featured article below so you can view the actual news site.
I'm very thrilled to see my work featured in online articles though I'm not very happy about the news this one held. I just hope they re-thought the whole operation through and did these sweet creatures right. (My research on what happened after proved no results. Maybe they put the whole project on hold.)


My second feature up is another Bali image. I'm not surprised. It is a beautiful place with lovely little treasure troves.


(Is it calling me back?)
I'm very happy to be part of

Images for a Cure

and for the support this project is getting from this part of the world.
Images for a Cure

supports The Breast Cancer Research by encouraging photographers to donate their earnings from their special photo sessions to the research society, through IFAC's FirstGiving page. The photo sessions coincides with Breast Cancer Awareness Month (October). I have volunteered a special portrait photo weekend for this cause. I am inviting mothers, wives, daughters, BFFs, sisters to avail of the special charity portrait sessions.
If you're interested to contribute to this cause and have a fabulous portrait session at the same time, drop me a note so we can have a chat about it. Feel free to

send me a message

if you have suggestions or would like to contribute to this project in any way. Let's work together and use our talents to make people more aware of what needs to be addressed in our community.
I'll be posting updates about this event as it unfolds. Watch this space for announcements about the event.
Important Announcement: A beautiful mall has agreed to help with this project! More about this soon!