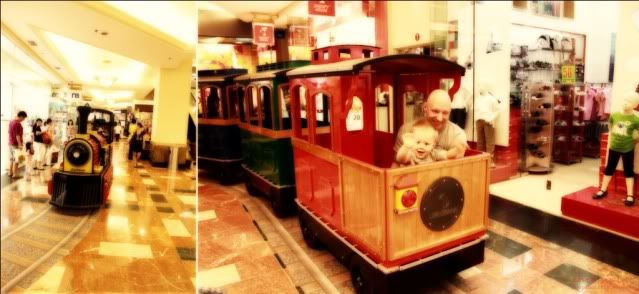 The train is coming so you better watch out!
The carriages have been waiting for passengers at the station and here they are all ready to show themselves to the viewer.
Alright. That's not all true. The train did not wait by choice. The days were simply too short and too filled with things to do. There's always something to do. My days are so stuffed that I fall asleep before I start getting bored. And, that's all good. I'd rather be busy then bored. In days like these, though, something's gotta give. And this little whiteboard of mine had its turn.
While I wasn't writing here, I was living Life. Letting its exciting blood run through my veins to push me to go at it bursting with adrenaline. I have no idea where it all came from but I managed to write a few entries for the school blog I contribute to.
I was also part of an exhilirating PhotoMarathon!
I wrote about it in my
PhotoBlog
and the Canon people noted my blog entry in its Facebook page! How exciting is that?!?! *grin*
I've also spent a lot of time watching my son grow up. My little baby is fast becoming a little boy and his poor mom just doesn't know how to catch up.
The little boy he is becoming has been showing itself more and more in the toddler he is now. As much as I love saying hello to that little man with eyes filled with wonder and glee, I dread the day when I realise that the toddler has said goodbye for the last time. So I spend time and time and time.
Cross my fingers in the hope that I don't miss a thing.
Thooooooooooooot! Thooooooooooooot! Watch out the train is coming! (And there are days when it waits for no one.)