Are you allergic to cow's milk? Lactose intolerant. I am. Allergic to milk and chocolate.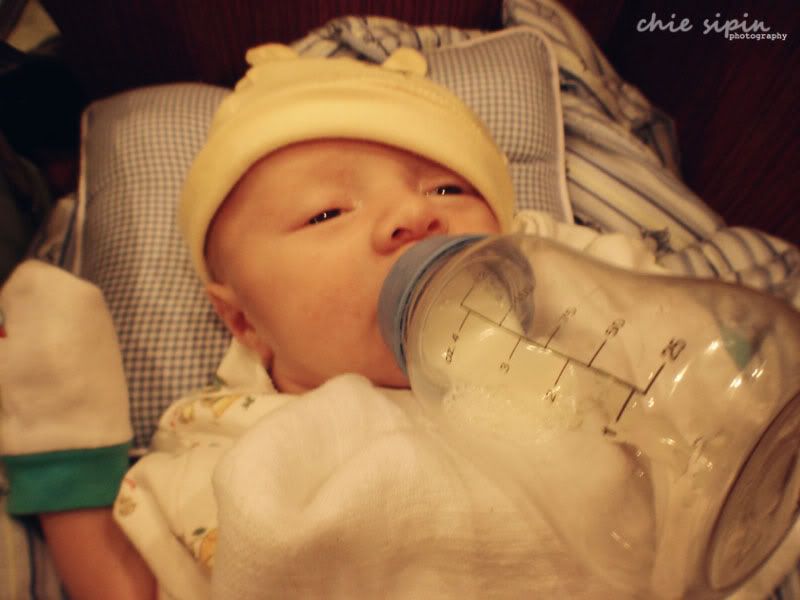 Not even the kind where just a little bit will hurt me. Nooooooooo. The kind where I can have just so much and when I go a teeny weeny bit beyond, I start re-acting. That's what they call it. The allergic reaction. I remember very late nights when my mom would prop me up high on pillows to help me breathe and lessen the reaction. I would cough until hoarse, until there was no coughing but a whole lot of hurt, and then I would cough some more. They weren't happy nights. These aren't happy childhood memories.
I worried about my son when he was born. Would he be lactose intolerant, too? Luckily, he wasn't. He didn't inherit the milk bit. He took that bit from his dad (only about

2% of Swedish people

are lactose intolerant, as opposed to almost

90% of SouthEast Asians

).
Click the image below to be directed to the site where you can find the image and the article.
So I thought the inclusion of my son's one-month old image in an article on milk choices for newborns was quite fitting. For a while there, we were on the same boat. Which milk to give? Cow's milk? Soy milk? Or, heaven forbid, the elusive banana milk? Thank goodness he was alright first time around. Now all we have to worry about is his chocolate intake!
Thanks

newbornbaby.com.au

for choosing my image for your article.
October brings about Breast Health Awareness Month! Time to book portraits for annual photos with friends, daughters and sisters!
Images for a Cure supports The Breast Cancer Research by encouraging photographers to donate their earnings from their special photo sessions to the research society, through IFAC's FirstGiving page. The photo sessions coincides with Breast Cancer Awareness Month (October). I have volunteered a special portrait photo weekend for this cause. I am inviting mothers, wives, daughters, BFFs, sisters to avail of the special charity portrait sessions.
If you're interested to contribute to this cause and have a fabulous portrait session at the same time, drop me a note so we can have a chat about it.